A Woman of Newport
Well, isn't this a turn up? If you'd told an 18-year old Natalie that she'd one day be back home full time living and working in Newport with her face slapped on a poster advertising the fact, the response would have been something like, 'say what?'
You see, at 18 I couldn't wait to get away from here. Black Matilda had no place. Or at least that's how it felt at the time. Not at home with my modern-model-of-diversity family from Mauritius and Wales where, because I was also half Dominican, I often felt too black. Not at school where a teacher once questioned whether my mum (much to her absolute fury, triggering an immediate school meeting) had written my English homework. Not on the street where despite having a group of supportive Welsh friends I was still racially abused, once by a group of men on my way home from school. I was 9. Yeah, that offer of a place to read English at university couldn't come quick enough.
I knew that my ticket out of here had the potential to change my life. And it did.
You can be what you can see.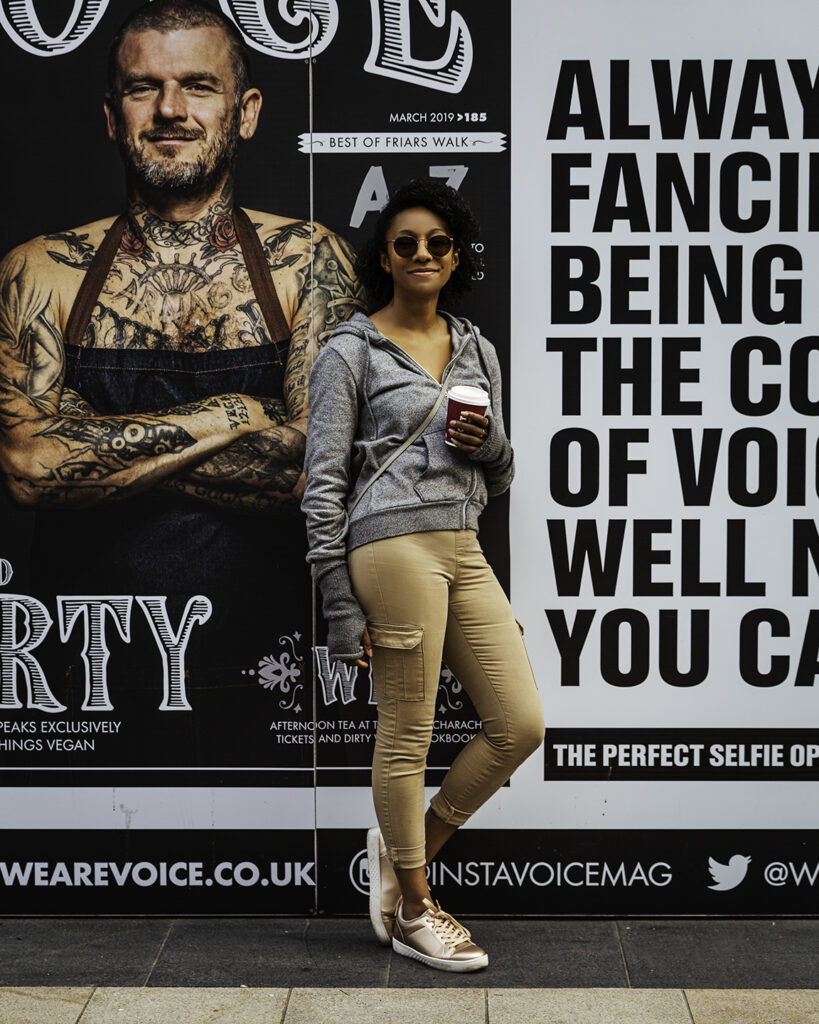 But for me, not at first.
My arrival at Sussex University in Brighton was a bit of a disappointment, if I'm honest. As a cultural melting pot of people, backgrounds and experiences, I felt I was back in Newport in the '80s. The students had more money than at home and were largely middle to upper class, but I could have been in Newport for the variety of voices and intellectual stimulation I still craved. I'd read Mum's copies of Maya Angelou and Alice Walker before I was a teenager and here I was among egg and flour fights as a fresher on my corridor in halls. There was more cultural mix going on at my grandparents' eating my tea with my half-Welsh, half-Mauritian cousins. I just didn't get it.
And then I went to America. My brilliant friend Tina (posh and English, one of the few at Sussex though to get me) had cleverly worked out that we could spend our second year as English majors in the States. There was only one university available to us – Rutgers, New Jersey – but still! America! Once again I couldn't book my ticket out of there fast enough.
And this time I wasn't disappointed. Quite the opposite actually. I felt embraced. By the people, the can-do culture, the positive energy. And importantly, for who I was too. Black Matilda was in! I saw these cool black girls on campus who were confident, clever and ambitious. I was invited along to a black sorority, a real-life black sisterhood. My roommate was from Puerto Rico. Puerto Rico! Rutgers offered classes on a writer I had barely heard of at the time (this was 1996) called Octavia E. Butler. She was black, female and wrote science fiction. I signed up immediately. I was in heaven.
Little did I realise at the time what a hugely important and formative experience this was. It was one that buoyed and stayed with me as I returned to the UK, graduated and navigated the world of commercial book publishing in London, where my being Welsh, black, female and working class meant I stood out and not always for positive reasons either. But I was determined. To be frank, an alternative career was a complete impossibility for me. Books or bust. Books it was.
At a time when there were virtually no black, British publishers senior to me working at the major houses that I could talk to about my career and how it was all progressing, there was still one place I could go for bolstering that, despite its challenges, remained my home. Wales. And I did, up and down the M4 every couple of months for 20 years as the roll call of authors grew – George Best, Alan Carr, Chris Evans, JLS, Little Mix, One Direction, Gary Barlow Rochelle Humes. Until two years ago when I came home permanently.
How did I go from reading Alice Walker to publishing One Direction? Well I had a very simple strategy as a working class black girl in a predominantly white, middleclass publishing industry. One thing I knew growing up in Newport and keeping my ear to the ground was that most people there didn't have much money. And certainly not for books. So as an acquiring editor the audience I wanted to reach were the people I grew up with, those who more often than not bought one book a year. Who shopped in supermarkets and used the local library. And that meant reaching them with books by people they already knew. Newport and its ready-made market research was good for business.
In a way it's no real surprise then that returning home after 20 years in London led to one of the most satisfying and industrious periods of my career, and a shortlisting in my first 12 months as Literary Agent of the Year at the British Book Awards. It was a period of personal growth too as I settled my daughter into school here, reconnected with old friends, and made new ones. I came to see home from a different perspective. Here I was still 'Nat from school' and I felt free in a way I hadn't felt in years. Plus the town itself had changed since I'd left at 18, my daughter's friends now largely a mix of kids of African, Indian, Pakistani and Welsh descent – just as diverse as her former nursery in south-east London. Plus people here really like to have a laugh and are unafraid to be silly. I love it.
There was another reason for this huge industrious and creative burst too. When the pandemic hit, I was forced to stop blow-drying my hair. I know, first-world problems and all, but I've been processing my hair one way or another since I was first taken to the hairdresser and had a perm when I was 11. Thirty years ago. I'd been tipped off to stop the chemical processes when I fell pregnant in 2014, but I couldn't quit the blow-dries. I mean, my natural hair was coarse and unmanageable, right? I'd spent a fortune on it over the years. A weekly blow-dry was like brushing my teeth, no way could that stop, but stop it had to.
And then what? Well, after many bottles of conditioner, a little bit of panic, overnight treatments and steam caps, I noticed a curl. First one, then two, then good God they all appeared overnight. And they keep coming! I now have more hair than Chaka Khan and I've been blow-dry free for just 12 months! How do I feel? Confused, sad, shocked, happy and annoyed all at the same time. My natural hair texture has turned out to be completely different to everything every hairdresser of every race has ever told me. It's a constant reminder of the toxicity of a culture that doesn't represent everyone, and another log on the fire of the work I want to do.
After spending so much of my life feeling out of place, my daughter and I have finally found one. I am a woman of Newport. And my hair is now free.
Natalie is a former commissioning editor and publisher, now literary agent specialising in commercial non-fiction. As an agent her authors include David Harewood and Sir Lenny Henry. She is advisory board member for Literature Wales and is a founding trustee and board member for Creative Access, a scheme providing black and minority ethnic graduates paid internships across the media sector. In her first 12 months as an agent she was shortlisted as Literary Agent of the Year at the 2021 British Book Awards and in 2016 she was highly commended for her work at the National Business in the Community Race Equality Awards. Natalie was born and grew up in Newport where she now lives and works, and she is very happy about this.
Women of Newport is a celebration of art, creative minds, writers, musicians, business, those who make a difference and more. It is a showcase for celebrating the wonderful women of the city, their success, passions, commitment and inspiring work. Women helping women – because sometimes by doing something together we can achieve more. www.womenofnewport.co.uk
---